Description
The Real Original 100% made in Australia Pakula Witchdoctor Teaser
The Witchdoctor Teaser was Peter Pakula's first invention, initially designed for use while trolling live and dead baits, yet after all these years the Pakula Witchdoctor is now accepted as the best fish exciter for all game fishing trolling applications. At all trolling speeds the Witchdoctor stays deep below the prop wash, sending out irresistible vibrations, flashing reflected shafts of fluorescent blue and purple light in all directions, and unlike any other teaser, it never comes to the surface to interfere and tangle with trolling lines. 

Note: The Real Original 100% made in Australia Pakula Witchdoctor Teaser does not come with bags or tow rope which are optional extras as are flash strips and Brad J Daisy Chains

Using the Witchdoctor - Instructions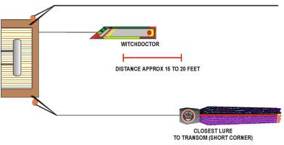 The Pakula Witchdoctor is very easy to use, simply position it around 15 feet in front (closer to the transom) of your closest lure or bait, but run it on the other side i.e. if your closest lure is on the starboard side, run the Witchdoctor on the port side, and it will do the rest. It is important to remember that this teaser is very effective and will attract fish directly to it. It is therefore critical to ensure that a bait or lure should always be placed in close proximity to this teaser, at least within 4 meters. Because of refraction, i.e. angle of light changes when it hits the water, the Witchdoctor is quite difficult to position. We suggest you measure the distance of your closest lure in arm spans and then measure the Witchdoctor tow line the same way to ensure accurate placement.
Check out our full colour range below:

The 100% Australian Pakula Hippy Witchdoctor

Payment & Security
Your payment information is processed securely. We do not store credit card details nor have access to your credit card information.